Slip into your coziest sweats, get that popcorn ready, and find the best binge-watching spot because I'm highlighting fourteen of my favorite shows! In no particular order:
The Marvelous Mrs. Maisel
Photo via
This show has taken home numerous awards and for good reason. The costumes, set design, writing, acting – everything is genius and it sometimes feels like it's on the verge of a fabulous musical! It's an empowering show about a 1950s housewife who decides to become a stand-up comedian. The Season One pilot will hook you, and the second season is better than the first, if that's even possible.
The Killing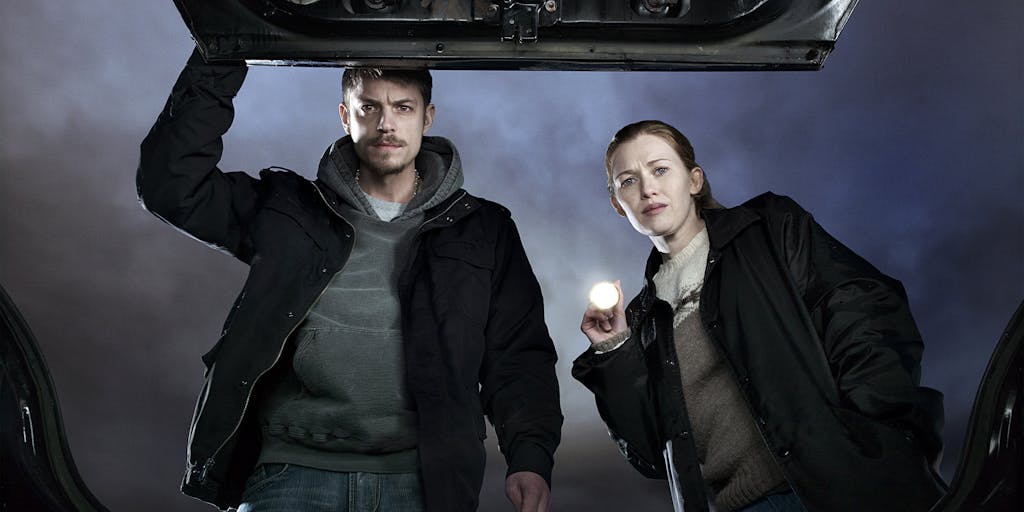 Photo via
This crime drama series is one that's very dark and very good. Each season promises a compelling murder investigation lead by badass Seattle detective Sarah Linden (Mirelle Enos). The Season 1 finale of this show is one of those episodes that has stuck with me for years! It's a bit of a slow burn at times, but the payoff is so rewarding.
Parenthood
Photo via
This family drama is so heart-warming and relatable with characters that will remind you of your own annoying yet lovable family. The show revolves around the big Braverman clan and how they cope with what life throws their way – an Asperger's diagnosis, infidelity, cancer, unexpected birth, a failing business, family secrets…you name it. You cannot help but laugh and cry along with them. It's one of the few shows I can go back to and re-watch over and over again.
Black Mirror
Photo via
This British anthology sci-fi series is seriously disturbing, as it examines how modern society engages with technology, to a fault. While many of the episodes feel futuristic, the future it references feels eerily close to our own. Each episode is a stand-alone and these ones particularly haunt me: "Fifteen Million Merits," "Hang the DJ," "Nosedive," "The Entire History of You," and "USS Callister." You'll be thinking about this show long after you've binged it, trust me.
Chef's Table
Photo via
In this Emmy-nominated Netflix documentary series, each episode focuses on a world-renowned chef. I love hearing how some of my favorite chefs got their start, created their most famous dishes, overcame struggles, and continue to build their culinary careers today. Among my favorite episodes are the ones on Nancy Silverton, Christina Tosi, and Grant Achatz.
Desperate Housewives
Photo via
Wisteria Lane is a picturesque little suburb. That is, except for all the murders and arson. The show's tongue-in-cheek tone and absolutely incredible cast of housewives (plus their mix of annoying, hot, and downright weird neighbors) make it one of the greatest nighttime soaps ever. This one's a real treat of a show!
Stranger Things
Photo via
Some of my favorite childhood movies, namely The Goonies and E.T.: The Extra Terrestrial, inspired this sci-fi/horror series set in 1980s Indiana. It's got a group of awkward yet lovable kids racing around on bikes, trying to solve the mysterious disappearance of their friend, and I'm here for it. Throw in some freaky-looking creatures, a token girl of the group, great Eighties wardrobe, and some telekinesis and you've got the makings of a nostalgic and totally binge-worthy show.
Felicity
Photo via
When I think of the best fictional love triangles, this show always comes to mind. I binged this the summer before I went away to college, which was fitting because the show follows Felicity Porter (Keri Russell) as she moves to New York for college to be closer to her high-school classmate and crush. I know it sounds like a soapy teen melodrama, but its brilliant writing and great ensemble will change any preconceived ideas you may have.
Breaking Bad
Photo via
If you haven't watched this one, what are you doing?! The award-winning show is about a struggling high school chemistry teacher (Bryan Cranston) who is diagnosed with cancer and turns to a life of crime, producing and selling crystallized meth with his former student to secure his family's financial future. Of course, the duo have to navigate the dangers of the dark, criminal world along the way. It's a brilliant show where the protagonists become the antagonists and you're left to decide if virtually anyone is redeemable.
Downton Abbey
Photo via
While you might think period pieces can be a bit of a bore, this British historical drama set in the early 20th century is so compelling. Aristocrats dating their servants, the outbreak of the First World War, and illegitimate children are just a few of the scandals and historic events that transpire over the course of six seasons. The set design and costumes are gorgeous and will make you want to retire to the English countryside. Trust me: you will be sad when the last cup of tea is poured.
Seven Seconds
Photo via
This Netflix limited series is intense, as it follows the investigation of the death of a young black boy and the boy's family as they come to terms with the devastating loss. Created, written, executive produced and showrun by Veena Sud, who also developed The Killing, it's a gripping show that examines the racial divide in our country through the lens of this upsetting hit-and-run.
Grace and Frankie
Photo via
This is a hilarious series about unlikely friends who bond over a shared experience – their husbands leaving them for each other! The casting is perfect – Jane Fonda as the uptight Grace and Lily Tomlin as hippie art teacher Frankie – and the chemistry is evident. These women thrive in their older age and show what it's like to navigate lives that have suddenly been turned upside down.
Lost
Photo via
This series follows a group of strangers who attempt to navigate life on a strange island after their plane has crashed, but things get weird pretty quickly. Despite a polar bear, a massive conspiracy, and an ending people are still arguing about, this is a show that will keep you intrigued from start to finish and fulfill all your childhood fantasies of getting shipwrecked on a cool, deserted island. Who cares if some of the plot lines don't make sense, right?
Big Little Lies
Photo via
From the title alone, you know this one's going to be a thrilling ride chocked full of juicy gossip and oh so much drama. The series centers on several troubled Monterey women (some of my all-time favorite female actresses) who become wrapped up in a murder investigation at their children's school. It's a real treat that was supposed to be a limited series, but thankfully gets a second season with Meryl Steep!